Perhaps you are just starting your own business, or maybe you already have one but you are feeling lack of better circumstances, new opportunities and satisfied employees. Maybe you have a great team but your company is still does not prosper. Or you may just have a brilliant idea but you don't know how to turn it into success.
If you're interested in creating long-lasting success in your business life, BUSINESS COACHING is just for you.
I know you must bring your whole self to the business floor if you want to be successful. But if you want to change your results you must change your thinking first. And if you want new circumstances, new opportunities and satisfied employees you have to decide and act quickly.
The one who follows the crowd will usually go no further than the crowd. The one who walks alone is likely to find himself in places no one has ever been before.
Albert Einstein
Click here and book your FREE presentation. 
______________________________________________________
Coaching kot učinkovit pristop za izboljšanje poslovnega okolja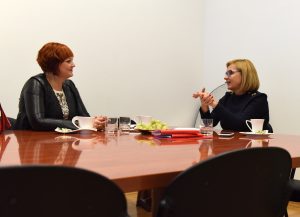 Marsikatero podjetje se srečuje s pomanjkanjem motivacije in apatičnostjo pri svojih zaposlenih, kar se na koncu odraža tudi v slabših poslovnih rezultatih.
Čeprav coaching pri nas ni več zgolj modna muha, so slovenska podjetja in podjetniki še vedno premalo seznanjeni z njegovimi pozitivnimi učinki. Gre za posebno obliko razvoja človeških virov, s pomočjo katere lahko zaposleni postanejo bolj inovativni, učinkovitejši, samozavestnejši pri svojem delu. Vse to se lahko neposredno kaže v boljših poslovnih rezultatih ob koncu leta. Še preden se podjetja odločijo za tovrstno obliko strokovne pomoči, pa je dobro, da res izberejo usposobljene coache, ki znajo poslušati in postavljati prava vprašanja. Metodo coachinga bi v prvi vrsti morali uporabljati menedžerji, na podlagi lastne izkušnje pa bi ga lažje priporočili svojim zaposlenim. Coaching ne le razvija kompetence vodenja, pomaga tudi zmanjševati stres, ki se mu vodje danes le težko izognejo.
Članek si v celoti lahko preberete tukaj
Na fotografiji z direktorico podjetja Moja zaposlitev Sašo Boštjančič.